Hi All,
This is SWTs wife, and I wanted to give y'all an update on him post surgery.  I apologize for not getting information out sooner–we were on the way to preop screening Thursday when we got the call the surgery had been postponed to yesterday due to an emergency case needing to be prioritized over his procedure.  He took a good long while coming out of anesthetic yesterday and while his heart has been "fixed" it is beating far too slowly and so he's still requiring external pacing.  At this point the medical staff is looking at medication to stimulate his heart beat and if that fails, a permanently implanted pacemaker.
Regardless, his echocardiogram today showed excellent ventricular and mitral valve function.  So it's simply a waiting game on the heartbeat.  We appreciate the well wishes and support you all have shown; it really has meant more to us than we can express.  As for the site–I was training (hahaha) on how to run everything but we ran out of time.  We're hoping SWT is out of the hospital by Friday/Saturday this week, and then it will be a few days before he can resume limited work on the site for about 3 weeks.  Please be patient, we'll be back to full throttle ASAP.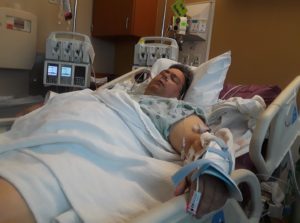 "Good" is relative, but he really does look worlds better from just 24 hours ago!