I'm particularly proud of the anal sex series, because the original Curious About Anal Sex was the first file I ever wrote and trained my wife with that neither of us had done before… it was one of the first true proofs I'd had that these files I was writing could actually help change perceptions and ideas about sex and make a healthy sexual relationship even better. When she started grinding her ass into my crotch in the kitchen one night, I thought, "that's sexy. I wonder if that means…" and yeah, a few days later, it became ass-grinding in bed, and by that time I'd mustered enough courage to ask her if she wanted to try it, and hearing her moan, "Yes" was the sexiest thing I'd ever heard at that point in our lives.
Back then, it was just a couple of recorded computer voices up in a supersonic frequency range that the conscious mind doesn't really process — but the subconscious does. It works so well because your wife will "hear" these voices in her head, and just automatically assign her own identity to them. With repeated listens she'll feel like these thoughts are her own thoughts, and the new ideas are her own ideas and over time she'll respond to the cues she's being given as naturally as if she'd always been that way.
Now we've started using the 3rd generation of my recording techniques, and that adds a magnitude of power and effectiveness to them. First, we've put the affirmations both in a supersonic frequency range and a subsonic range. This actually resonates in her bones. She'll literally feel these words within her. Next, we've added actual human voices to the affirmations. It's a combination of both, and the emotional range of the human woman saying "Yes," and "I accept my subliminal programming" and moaning in ecstasy is both ground-breaking and mind-blowing in its effectiveness. Finally, we've worked hard to clean up each file, making the "silent" files significantly more quiet than they were before (2nd generation files had a nasty way of hissing or popping, especially on lower quality equipment).
In this new format, we have four anal sex files, each for a different level of her training. You can get them separately, but we also sell them in a bundle that's about 25% cheaper than buying them individually. The bundle is available right here: Anal Sex 3.0 Bundle. For the month of October, everything's 20% off to help me raise money for my impending heart surgery, which brings it down to just $59.99!
Here's a little more information about each of the files in the bundle:
Curious About Anal Sex encourages even the prudiest of women to give in and experience the raw animal pleasure that is anal.
Enjoy Anal Sex helps a wife to remember just how much she enjoys anal sex, and to start desiring it more and more.
Initiate Anal Sex will give your wife the drive, desire, and determination to grind her ass up against your cock whenever she can, because she's going to want you to fuck her up the ass and she won't want to wait until you're in the mood for it.
Addicted to Anal Sex finally helps your wife realize the missing piece in her life: constant, raw, animal butt-fucking. Over time, it will turn her into a regular butt-slut, wanting anal sex even more than vaginal.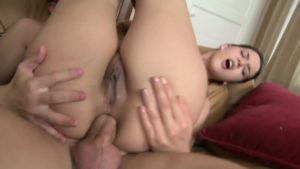 As far as my surgery goes, it's scheduled for late October, about 4 weeks from now. I'm pretty damned nervous, but holy shit. The letters of support and comfort you guys have sent me has been…. awesome. I have received more well-wishes and emails asking how I'm doing from you guys than from my actual family. I think for that reason, I feel a lot better thinking of you as my family too.
Happy training everyone. If you haven't gotten the Anal Sex files before, this seems like a great time to do it. Life's fucking me in the ass right now. Should you be fucking your wife's? 😀