Description
This is the ultimate file in our sex toy line up. If you want to find your wife stuffing her twat at every opportunity with a dildo, or vibing the hell out of her clit for a mind-blowing orgasm, this is the file for you. Addicted to Sex Toys will take your wife's habit of enjoying sex toys to a whole new level. Be warned, though — she might end up loving her dildo more than you! (Just kidding. We've got files for that too!)
Affirmations in this file include:
Yes. I will masturbate every night with my vibrators.
Yes. I love the way sex toys feel when I fuck myself with them.
Yes. I love the way it feels when my husband fucks me with a sex toy.
Yes. I am addicted to the feel of a dildo sliding into my pussy.
Yes. Every time my dildo slides into my pussy it feels better and better.
Yes. It is very easy to orgasm with a dildo in my pussy.
Yes. Masturbating with a dildo is the most natural thing in the world.
Yes. I love being addicted to my dildo.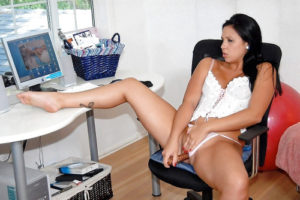 Every file has four women repeating these mantras, three women repeating "Yes" over and over while moaning in constant arousal, two other women having loud, appreciative sex in the background, and a strong male voice instructing your wife in her new mental habits. It will lock these new beliefs deep into the core of her lizard-brain, and it sounds like this when unmasked:
The product comes with four "flavors" — silent, roaring ocean, crackling fire, and soothing rainstorm. The files have been named "Adept Little Toymaker" for your privacy and convenience. If your wife doesn't enjoy using her sex toys as much as you'd like, she might not be ready for this file. You might want to try her on Enjoy Sex Toys 3.0 first.