Description
The masses have spoken and the gods have delivered! All four anal sex products are now available as a complete bundle, with a significant discount! Get Curious about Anal Sex, Enjoy Anal Sex, Initiate Anal Sex and Addicted to Anal Sex at one time and enjoy massive savings. And new: all four files use our latest 3rd generation recording/mastering methods, for extra powerful training! Let the reamings begin!
Curious About Anal Sex encourages even the prudiest of women to give in and experience the raw animal pleasure that is anal.
Enjoy Anal Sex helps a wife to remember just how much she enjoys anal sex, and to start desiring it more and more.
Initiate Anal Sex will give your wife the drive, desire, and determination to grind her ass up against your cock whenever she can, because she's going to want you to fuck her up the ass and she won't want to wait until you're in the mood for it.
Addicted to Anal Sex finally helps your wife realize the missing piece in her life: constant, raw, animal butt-fucking. Over time, it will turn her into a regular butt-slut, wanting anal sex even more than vaginal.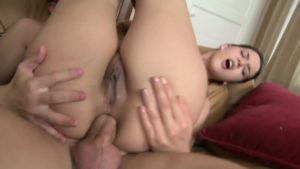 Normally all of these files cost just shy of $100. Bought in this bundle, though, they can all be yours for just $74.99!